Специальные решения
Application Example 1: Multi-grooving "Petrol Piston"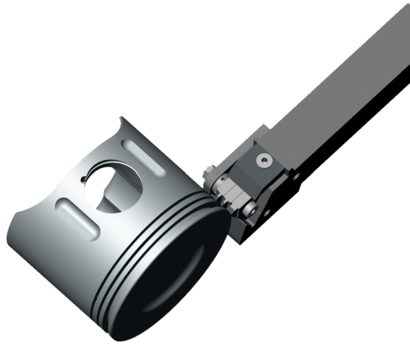 Grooving Radial
The grooves are machined with PCD-tipped inserts type 312 which are clamped in a multi-grooving toolholder - toolholder type 340.
Process:
Pregrooving
Finishing with a second set of inserts
Material: GD-AlSi12
Cutting Data Pre Grooving:
Vc = 350 m/min
Vf = 0,03 mm
Cutting Data Finishing:
Vc = 350 m/min
Vf = 0,07 mm
Application Example 2: Face Grooving on Gear Wheel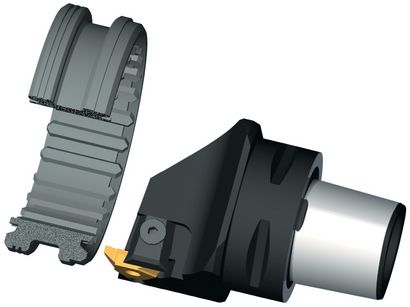 Using Horn Polygon shaft toolholder type 360 and special indexable insert Type 312.
The size of the burrs along the teeth defines the tool life and creates a high technical demand on the tool itself.
Material: 20MnCr5
Cutting Data:
Vc = 200 m/min
Vf = 0,06 mm
Application Example 3: Hardturning on Gear Wheel
GROOVING OF HARDENED PARTS
Special CBN-tipped insert type S117 is used to finish the width of the groove. The stock removal is approximately 0.15 - 0.2 mm (.006˝ - .008˝). The insert is ground to the final width of the groove.
Both flanks are machined at the same time (Rz=2.3 μm). To obtain high surface finish, the insert has a wiper flat on both of the side cutting edges. Stable machining conditions are imperative. No coolant.
Material: 20MnCr5
Case Hardened 58-62 HRC
Cutting Data:
Vc = 140 m/min
Vf = 0,08 mm
Application Example 4: Face Grooving - Multi Tool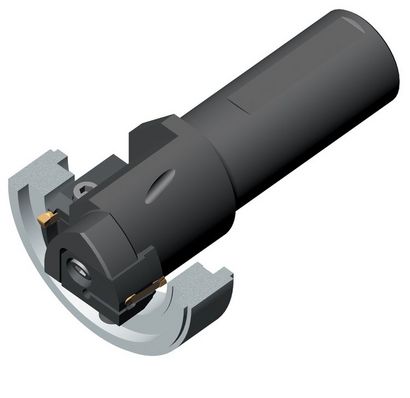 Based on the insert system S224. The tool is used to do a front and back face grooving operation.
The toolholder is equipped with exchangeable and adjustable cartridges.

Material: 20MnCr5
Cutting Data:
Vc = 180 m/min
Vf = 0,16 mm
Application Example 5: Groove Milling (by Circular Interpolation)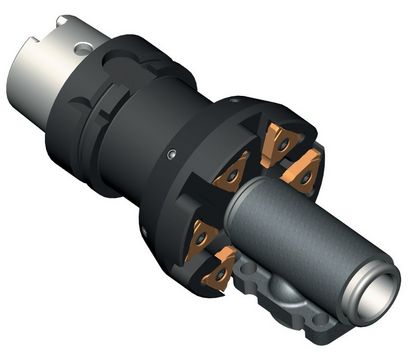 Grooving Head type 389 with HSK
Example: Wheel cylinder
Tool data:
Cutting edge Ø Ds = 39 mm
Number of teeth Z = 6
Material: C45
Cutting Data:
Vc = 180 m/min
Vf 3 = 3913 mm
tg = 1,92 sec
Application Example 6: Groove Milling on Swivel Bearings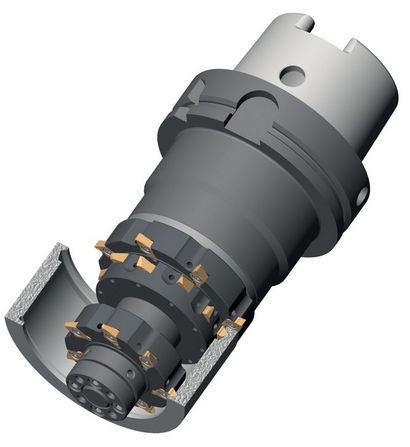 GROOVE MILLING (by Circular Interpolation)
A set of milling cutters - type M275 with different cutting diameters are used. They are mounted on a HSK arbor with through coolant. All operations - Grooving and Facing - are done in one step.
For multi-spindle use on transfer lines, the length adjustment is done by distance rings.
The example shows a detail of a swivel bearing with tool. Dry cutting.

Material: C45

Cutting Data:
Vc = 140 m/min
Vf = 0,5 mm
Application Example 7: Gear Milling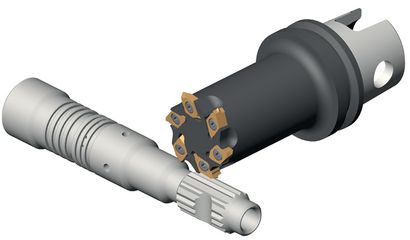 GROOVE MILLING (linear)
Special milling cutter type M275 with indexable inserts type S275 and KM arbor.
Material: 20MnCr5
Cutting Data:
Vc = 220 m/min
fz = 0,03 mm
Modular Threading Die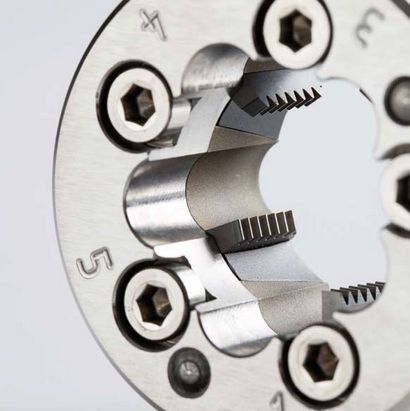 Threading die for pipe threads, constructed as a changing system
Consisting of:
Basic holder
Individual inserts
The weight of the 5 carbide cutting inserts is only 23g.
When the tool life comes to an end, the user only has to replace the cutting edges or cutting inserts, rather than the entire threading die as before. This results in considerable cost savings. Customer benefits: increasing productivity whilst conserving resources and reducing cost.
Special Applications
We appreciate to develop individual tool solutions for your special application case.